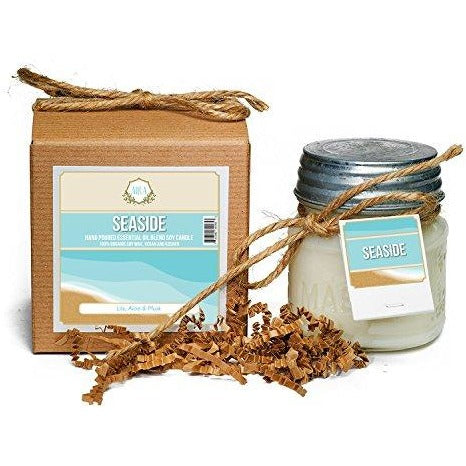 AIRA Soy Candles - Organic, Kosher, Vegan, in Mason Jar w/ Therapeutic Grade Essential Oil Blends - Hand-poured 100% Soy Candle Wax - Paraffin Free, Burns 60+ Hours - Tropical Seaside - 8 Ounces
---
Brand: Aira
Color: Seaside
Features:
ORGANIC, KOSHER & VEGAN - Aira Soy Candles use pure, organic soy vegetable oil as the base for these soy candles, as opposed to common candles that use paraffin, petroleum oils or other toxic bases. Wicks are 100% cotton and lead free
THERAPEUTIC GRADE ESSENTIAL OIL BLENDS - Unlike regular candles, Aira Soy Candles employ a variety of essential oil blends for an unadulterated scent & light that stays with you for long hours - No harmful chemicals are added for scent / light / appearance purposes
TROPICAL SEASIDE SCENT - Your favorite tropical vacation is now just a candle away with this all-new Aira special - Seaside variant of our soy candles features a mix of handpicked tropical flowers & scents to recreate the musky, heady smell of a tropical seafront
NO PARAFFIN - Most commercial candles use one form of petroleum products or the other, but not us! Our soy candles are purely soy oil based & contain no paraffin content - 8 oz. soy candles burn for 60+ hours to provide clean, clear light & leave no soot/smoke
NO MESS FOR YOU TO CLEAN AFTER - With no soot or char left, it's easy to clean after - Use dish soap & warm water to wipe away traces of spilled/burnt wax - Do away with toxic candles that pollute your home & embrace the clean & eco-friendly ways of Aira Soy Candles - Just click 'Add to Cart' to order right now!
Details: Candles That Truly Light Up Lives Whether during the busy holiday season or on a special date night, we all try to light our homes up the old-school way with candles of all kinds. But if you are looking for candles that well-and-truly light up your life in meaningful ways, Aira Soy Candles present the best option for you. All Natural, 100% Vegan & Kosher Soy candles that we bring to you use nothing but purely soy contents. Made from the purest soy vegetable oil & the finest of therapeutic grade essential oil blends, these candles are fully vegan & kosher. No beeswax/paraffin/cheap petroleum oils/harmful chemicals are used in these soy candles. Also, it's worth nothing that every soy candle jar we sell is hand-poured with care, precision & style! Seaside Scent – Your Personal Tropical Gateaway Combining the best of numerous tropical flowers that go really well with one another, this variant of Aira Soy Candles has the power to teleport you straight to your favorite beach. In short, this is your very own tropical gateaway – always at your service. For Clean & Clear Light As these soy candles use pure soy oil (unlike many candles available in the market), they can provide clean & clear illumination for hours at a stretch (these soy candles burn for 60+ hours, longer than any average candle). Leaving no soot/char behind, Aira Soy Candles also make sure that they remain eco-friendly, emit no toxic gases & don't blacken up the interior of your house. Also, you can easily clean up after these candles using dish soap & warm water. So, wait no more – just click 'Add to Cart' to order the gentlest & purest soy candles you can get your hands on!
---
Share this Product
---
More from this collection