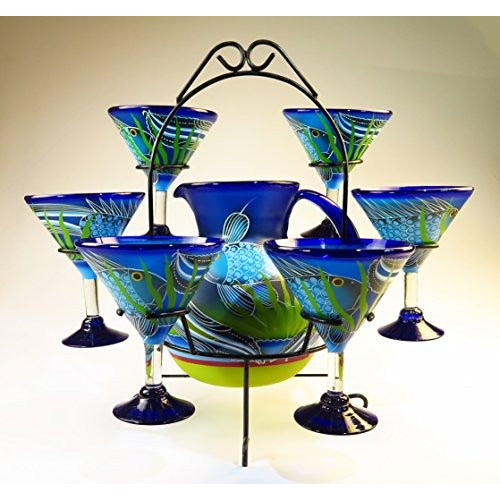 Mexican Margarita/Martini Glasses and Pitcher set with dispaly rack, Hand Blown, Hand Painted, Blue with Fish in the Sea design
---
Brand: Mexican Margarita Glasses
Color: Blue
Features:
Mexican Margarita Glasses, Hand Painted, Hand Blown, Fish in the blue sea designs. Display stand is hand made from metal in Mexico.
Individually hand-blown with recycled glass with a festive touch. Unique sea blue design. Set of 6 glasses.
Great for margarita parties. Handmade in Mexico by gifted artisans. Sturdy enough for daily use.
Do not place in Dishwasher. HAND WASH ONLY. Each glass will vary slightly as a result of being individually mouth-blown
From it's sea blue color these hand-blown glasses and pitcher are a distinctive design that elevates the look of your table with its beauty and color.
Publisher: Eye4Art
Details: Every day is a party whether serving margaritas or even ice cream (glasses make great desert dishes and pitcher could serve ice tea or lemonade) with these 6 glasses and pitcher in a metal display rack. These glasses, pitcher are hand crafted in Mexico from recycled soda and beer bottles. Display rack is also hand made in Mexico from metal. Decorated with a blue color with Fish in the Sea designs they are great with our other Mexican glasses. Because they are handmade dimensions and colors may vary slightly. Sturdy enough for everyday use. Mouth-blown lead-free glass. Size: margarita/martini glasses: approximately 6 1/2 inches high and 5 1/2 inches wide; and holds around 15 oz. Pitcher is around 9 inches tall and 8 1/2 wide. Holds about 16 cups or 4 quarts. Care instructions: DO NOT place in dishwasher, HAND WASH ONLY. Our Mexican Glassware is individually mouth blown, hand formed and made from recycled glass. Trapped bubbles and slight variations in form, capacity and color are natural and charming features of the glassware. Although it is quite durable, this glass is not tempered so some extra care is necessary. A cooling-off period is essential after the glassware is washed. Extreme temperature changes may cause thermal shock and cracking. This glassware is not suitable for serving hot beverages.
---
Share this Product
---
More from this collection